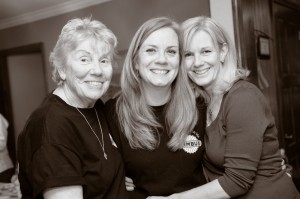 Welcome to our blog! We want share our hyggelig-cozy feeling with you, and through it encourage you to make food from the heart. Our team is dedicated to inspiring people just like you! Together, and with the blessing of help from many others you'll come to know, we are Hyggelig Smushies.
About Us
Annette Sorensen, the originator of our project, grew up in a Danish household and absolutely loves all things Danish. By day, Annette is a computer programmer.  By night she loves the sense of community that can surround cooking and sharing a meal together.  Combining both of these worlds seemed very natural to her and has led to the Hyggelig Smushies project. Annette is supported by a close circle of friends and family.  Eva – Annette's mom – is our secret weapon!  A native Dane – she knows this food. Annette's close friends test out her recipes with the help of their children. Annette brings it all together with her love and warmth!
Hyggelig
Hyggelig is a Danish term that describes a warm and cozy feeling with the people that one loves. Our mission is to spread this warm feeling through our food.  This concept is of upmost importance to Danes.  And you've probably heard that they are the happiest people in the world, so we know we're smart to study them!
Smushies
Smushies are open-faced sandwiches, typically served in smaller portions. Danes use a fork and knife to eat them, but most Americans prefer the hands-on experience. Smushies are a favorite for us all. We experiment with different flavor pairings using the The Flavor Bible.  You can follow our experiments on our blog. Our Danish meal wouldn't be complete without the smushi!
The Experience
Our cookbook and blog are designed to provide approachable, yet tasty recipes suitable for all ages. We encourage cooking to be a family activity, and want to involve not only adults, but children as well. Cooking doesn't always have to be a stressful process. We know that not everyone is a master chef, but our recipes can work for beginners, amateurs, and experts! We believe you will travel out of your comfort zone, only to find more comfort there!
Kids and Cooking
As said before, youngsters can help in the kitchen as well. The hyggelig team has created the GAB: Girls Advisory Board. The board has helped us realize that children can cook too. Their helpful insight has taught us children's limits and interests, as well as the importance of working together. We stress that even though a child may struggle with simple tasks such as chopping vegetables, or measuring ingredients, the kids can also help in other areas of the meal. Often times the GAB will create the table setting, with candles, napkins, place cards and anything to cozy up the mood.
The Cookbook
All of this effort has been leading up to a cookbook, titled: Danish Smushies Feeding Family and Friends with Love and Hyggelig. Annette is hard at work on this impending publication. Finding our agent is the current step on this walk.
Our cookbook is designed to be used efficiently, and to be easily understood. We have included features, such as step-by-step photos, shopping lists for our recipes, crystal clear instructions, a corresponding website (this site) with (TBA) videos, and much more.
We hope to inspire you to cook through the heart with friends and family, and to spread the hyggelig feeling to everyone!
-HyggeligSmushies team, Hannah