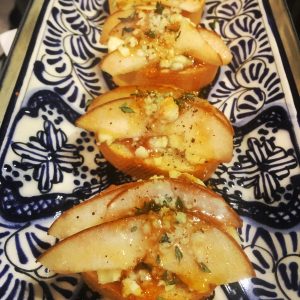 This baked blue cheese and pear smushi was a sleeper! It's such a simple recipe to assemble, and it's just delicious. Baking the blue cheese really mellows the flavor.
The pear skin is left on for addition of both color and crunch. A firm pear will be perfect as it will become softer in the oven. Slice the pear just when you're assembling these smushies (small open faced sandwiches) to keep their white interior color intact.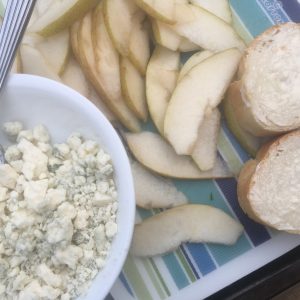 Serving on an old wooden cutting board is a warm presentation. Or perhaps you have a beautiful ceramic platter from travels, as shown in our photograph!
A sprinkling of fresh thyme and a drizzle of honey are the final decorations.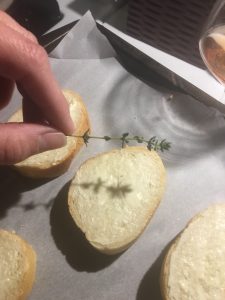 I hope that you try this starter level smushi and share a hyggelig moment with someone you love. You could enjoy coffee with this, or a little glass of sherry, or a glass of a sweet dessert wine.
with love, Annette

Baked Blue Cheese & Pear Smushies Recipe #2128
Ingredients
2

tablespoons

unsalted butter

1/2

cup

crumbles of blue cheese

about 2 ounces, divided

1/2

pear

thinly sliced

1

twig of fresh thyme

1/4

teaspoon

kosher or sea salt

several grinds of black pepper

2

tablespoons

honey
Instructions
Preheat the oven to 375º. Line a baking sheet with parchment paper.

Butter each slice of bread. Arrange on the cookie sheet. Sprinkle most of the blue cheese on the slices. Arrange the pear slices. Top with the last bit of the blue cheese. Bake for about 8 minutes. You'll start seeing a golden color on the edges of the bread.

Remove the cheese-pear smushies to the serving board.

Strip the thyme leaves from a few sprigs using your fingers (hold the top of the stem and run your fingers down the stem) and sprinkle a few leaves onto each smushi.

Sprinkle with a dusting of the salt, and pepper. Drizzle with the honey. Serve!