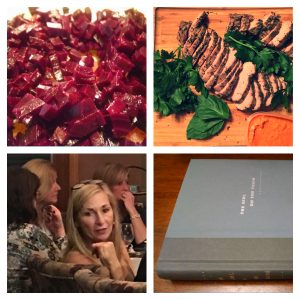 I had moved from one edge of Illinois to the other – from the east to the west – from Chicago to the Quad Cities. My son likes to joke with me "in which of the seven Quad-cities do you live?" I live here with my wonderful "person." His name is Bjarne, a beautiful Danish name. His lovely friends have enfolded me into their lives. One of our most favorite people is Julie who invited me to join her long-standing book club. As an avid reader, it seemed the perfect fit.
That first evening I was a bit nervous as everybody else had been friends for a long time, but mostly just eager as I prepared to attend my first meeting. By the end of the night, we agreed that at the next meeting all would bring items for turkey-board smushies. When we next met, at Julie's house, I was thrilled by how enthusiastically the club reacted to both the preparation and the tasting of my offering. I was even more excited when our president, Cindy, decreed "from now on, only board meals!"
My new "job" with the book club became curating the monthly menus and arriving with the little bowls and wooden boards for serving. Nils, the owner of Brooklyn Butcher Blocks, was the first business owner to show his faith in my project by constructing for me a few custom-made serving boards. So now each month I choose smushies, salads, soups and Danish desserts that I am . When meeting time arrives, all come bearing our assignments. I choreograph the layout of the table. Stacks of bread are arranged on the boards, and the women experiment with a wide variety of ingredients to assemble previously unknown smushies.
A book club can generate rich discussions if the members are willing to speak and can discuss the finer points of the book. They must be willing to listen, agree or disagree, with others' opinions. The same can be said for tasters in the development of a recipe: honest opinions are the best route to delicious results. Recently when experimenting with four different versions of Tuna Mousse, the discussion became lively. Many felt "mousse" was the wrong name for the dish, and after a healthy debate, the final recipe, which is whipping cream and gelatin based, was christened "Danish tuna salad."
What a blessing to have 24 hands to assemble the Smushies, and a joy to have 12 adventurous mouths to eat and pass judgment on the offerings. Julie, a reluctant taster of any seafood recipes, even tried the salmon pockets! Last week, Heidi told me she was so happy that I've been introducing her to new taste sensations. Cindy affirmed that and compared trying new foods to reading new books, noting that both broaden her horizons.
When I joined the book club, I was seeking friendship. But I found so much more than I expected when they joined me in testing and refining recipes. How sweet is that?