If you never met Eva Sindberg, I'm sorry. I can say beyond a shadow of a doubt that you missed out. Eva, Annette's mother, passed away recently and after you read this excerpt from her obituary, you'll understand why it's important to memorialize her here.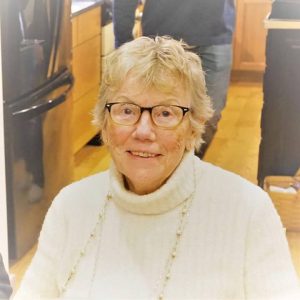 Eva lived a full and blessed life in three countries. Born and raised in Denmark, she moved to Canada after marrying the love of her life, Ole Sindberg, in 1956. They then immigrated to the United States, becoming citizens in 1977. Eva and Ole had a child in each of the three countries.
Eva's huge heart set the foundation for her life and her family. She was a thoughtful daughter, sister, aunt, wife, mother and grandmother. In addition, she had an extended and varied group of dear friends. They included her church, neighborhood, swim class ladies, and Danish cultural family. Eva participated in life, usually with Ole by her side. They raised their family, travelled, danced, went to the theatre, ran around in a motorcycle, hosted legendary dinner parties where she highlighted her culinary skills, and gave back to their community. Always one to help, Eva used her creative skills to benefit others. She recently knitted hundreds of hats, which she sent to service members with the simple tag, "Love, Eva." She was always there to lend a hand or an ear. She will be missed.
I told Annette the other day that hearing stories of Eva at her memorial, I was struck by how much those stories sounded like Annette. She has so many of her mom's wonderful qualities. It is because of Eva that Annette started this Hyggelig Smushies journey – it was a way of sharing Eva and her exquisite gifts with the world.
Eva's other daughter, Carol, delivered a beautiful eulogy, a few pieces of which I want to share here. (Note: the first is where the Danish word Hyggelig came to be in our title.)
If you've ever enjoyed reading a book indoors on a rainy Sunday, or a cup of hot cocoa on a snow day, you've experienced hyggelig without even knowing it. Eva was a shining example of this. She made every experience with her feel 'hyggelig,'
For baptisms Mom made a special gown that all of us kids, cousins, and grandkids have worn. Each of our names and baptism dates have been lovingly embroidered on the gown.
In keeping with Danish tradition at weddings, Mom would create personalized song lyrics for the happy couple. She handed out song sheets to everyone and led the guests in belting out the song with enthusiasm.
Be a good host – here we learned by her example. I hope that you had the pleasure of attending one of Eva and Ole's notable dinner parties. They were gracious hosts who made everyone feel welcome. The food was always a homemade culinary delight and it was common practice that the dinner would be served on their special Danish fine china. They loved it when people stayed until very late in the evening just talking and being together.
Over the next couple of months we will share Eva stories and some of her favorite recipes. If you have Eva stories you'd like to share, please send them. I'll share a short one:
The first time I met Eva was when Annette, my college roommate, brought me to their home. Eva took Annette's face in her hands and gave her a huge, warm smile, as if she was the dearest thing in the world. That's pretty much how she cared for everyone.
Eva's inspiration is never-ending. It's led us to Annette launching "Smushi School." We'll speak much more about this in the next post.
We close with this enchanting picture of young Eva with her handsome Ole. Hyggelig to all.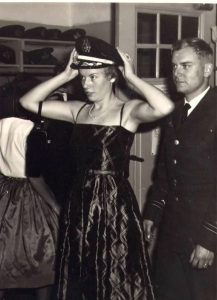 Written by: Beth Fawcett