The end of every school year marks a special time for all students, but especially for those graduating. Therefore, in honor of my 8th grade graduation, I decided to have a Danish-style family party!
After much deliberation, we narrowed the menu down to five different types of smushies:
º smoked salmon on potato schmear
º fried tilapia with roasted vegetable remoulade
º corned beef with apple and horseradish slaw
º pork tenderloin with red cabbage and cucumber salad
º chicken bacon club, with the choice of tarragon or curry sauces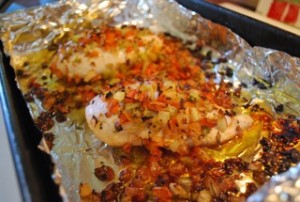 The chicken about to go into the oven
Since so many people were coming, we decided to set up "Smushi Stations". We encircled the main ingredient and its accompaniments. Then our guests assembled their smushies on the base of bread, butter and lettuce.
On the side they could add Eva's  delicious mashed potato salad. (My aunt had trouble cooking this, and said to Annette "I defy you to show me where this recipe tells me to mash the potatoes!" Alas, this is why our team continues to test and retest these recipes!)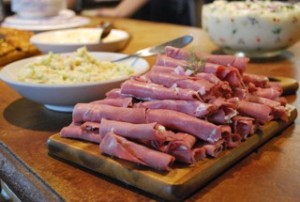 Corned beef rolls with horseradish
That afternoon, after both soccer and baseball games were over, we made homemade raspberry ice cream! This was not difficult at all, and there are many different types of ice cream makers available. If you don't want to purchase one, this website offers an alternative (in the cook's note section). http://allrecipes.com/recipe/230469/smooth-raspberry-ice-cream/
Along with the ice cream, for desert we served thin oatmeal cookies, a brightly colored fresh-fruit salad and æbleskivers. Aebleskivers (aka little golden orbs of delight) are similar to the taste of a pancake, but in the shape of a donut hole. The batter is very simple to make, and you can fill it with jam, chocolate chips, peanut butter, Nutella – you name it. The pan used to cook them is a skillet with several shallow holes. Pour the batter in, and then using skewers, flip them once the bubbles on the top burst. They are done when both sides are golden brown. (Just like pancakes!) Here's a fantastic link, which explains some history as well. http://nordicfoodliving.com/original-recipe-danish-aebleskiver-pancake-balls/
Overall the party was a great success. Our family is very American and are not always the most adventurous eaters, but we cleaned every plate. What a hyggelig night!
I believe a new family tradition has thus been born. Now we can anticipate my cousin Arden's graduation party next year—and many more to come.
-HyggeligSmushiesTeam, Hannah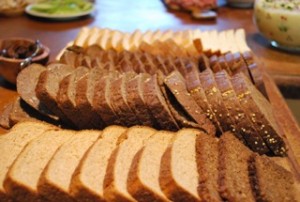 The bread spread – as we like to call it