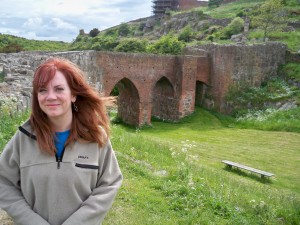 I was born in Denmark and raised in suburban Chicago, I have always looked to my mother, Eva Sindberg, for Danish cooking techniques, helping keep the traditions of my heritage alive in my own home. Just like Eva, and her mom (my Mormor), I also love to cook. Growing up, we often went back to visit family in the "old country." When I first visited with my own children in 2001, I thought, wow, this is a whole country with "my taste!"
Cooking has not been the focus of my career. I graduated with a degree in accounting and computer science and became a certified public accountant the same year that personal computers were introduced to the world. Since then, I have written countless databases for accountants, and I have indeed loved and been thankful for the work.
Still I've been fueling my passion for cooking since I was a child. For the past few years I have immersed myself in Danish cooking. I have gone back to Eva for recipes from our family, collecting them for my own computer database. To test these recipes and look for feedback, I've enlisted many friends, some family members and others interested in learning more about Danish cooking to taste the dishes in their own homes and other local outlets.
Danes are recognized as the happiest people in the world. Through Danish Smushies, I hope to help Americans tap into that wealth of joy and feed their families, friends and themselves with delicious, beautiful food so we can all feel that love, that hyggelig, in a tangible and tasty way.; With the increased popularity of Nordic cuisine, the time is right for the world to discover why the Danes love smushies.
Smørrebrød, which literally means buttered bread, dates back some 300 years. In Denmark the construction of smørrebrød is a true art form, with each ingredient carefully chosen for both the flavor it adds as well as the color. Beautifully displayed in the windows of popular storefront cafés, you can just imagine the fingerprints on the glass. 
The story of smushies (mini smørrebrød) begins at The Royal Café in Copenhagen. There, the elaborate, exquisite preparation of these mini open-faced sandwiches, ready for the sharing, made owner Rud Christiansen famous. Some have described these decorative, delicious sandwiches as some of the most beautiful presentations in the world. Now, many Danes across the globe look to recreate their own smushi style at home. Lynda Balslev of NPR said it best: "Perhaps it's without irony that this same relaxed society would make a lunchbox staple an iconic expression of tasteful design." Danes have grown up fueled by the larger Smørrebrød versions of the open-faced sandwich. The smaller size of smushies, however, allows home cooks to sample more and share more.
—————–
Come Trend With Me and Watch My Cookbook Come To Life!
Subscribe to my blog (invitation code Smushies)