Our Girls Advisory Board (GAB) recently inducted a new member: Matthew. The newly dubbed GAB+m has been a part of Hygglig Smushies right from the beginning – they started to experiment with Annette over three years ago.
Much to our delight, Matthew decided that for his upcoming birthday he wanted to have a Danish meal! We knew this would be a great opportunity to introduce the rest of his family to this food. Matthew set out to create a menu including all of his favorites. Of course, the first item he thought of was the smushi! Matthew settled on a roast beef as well as a corned beef smushi.
The roast beef (always a big hit) included: horseradish cream sauce, sautéed onions, salt & pepper to taste, and of course, the roast beef! A more detailed description of this recipe along with instructions can be found in our previous blog post 'Roast Beef Smushi.'
Our corned beef smushi consisted of: corned beef, red cabbage, homemade thousand island dressing, and sautéed onions all nestled on a pumpernickel marble rye bread.
Rounding out the menu were boiled yellow potatoes, a beautiful vegetable salad, pan-roasted asparagus, and plenty of fizzy and tasty drinks to go around.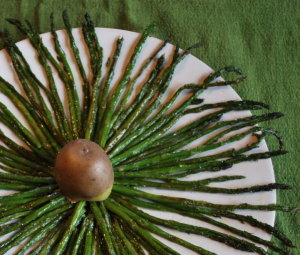 You can enjoy Matt's asparagus-arrangement above!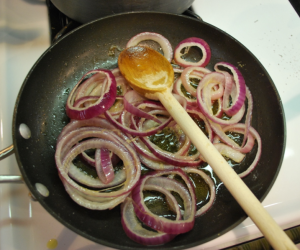 The color of the onions is just beautiful!
This gathering inspired many of the family members new to the Danish food we've been learning about. The guests were in disbelief when Matthew revealed that he had indeed thought of the menu as well as helped to execute it. After trying a smushi, grandma said, "I love the idea that there's only one slice of bread, I always have trouble finishing it when I eat a typical American sandwich. This way the bread doesn't overpower the goodies inside."
We're hopeful that cooking doesn't have to feel like a chore. This is why we want to encourage families to spread the hyggelig feeling through their food and we certainly accomplished this at Matthew's party. What could be a better way to pay tribute to some amazing Danish food than to share it with family while celebrating?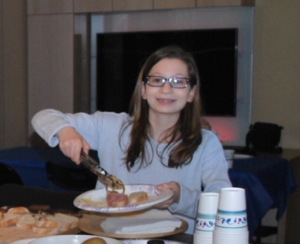 The family preparing to feast!
-HyggeligSmushiesTeam, Hannah