You know the feeling when you taste something and it immediately tastes like home? I had that recently when I tried a raspberry bar recipe from the Orange Peel Bakery in Aquinnah, a town in Martha's Vineyard. It was rustic and satisfying and just really hit that comfort food spot.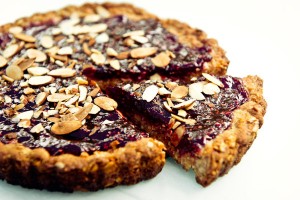 What makes it rustic is the crust; the oatmeal and sliced almonds are left whole, not ground. It's held together with butter (of course), brown sugar and a little flour. Simple and delicious. And don't skip the part where you toast the almonds. It's well worth it, really adds to the overall flavor of the tart.
For the filling, you can use your favorite raspberry jam, or a filling from your favorite raspberry dessert. Annette came upon a simple mixture of fresh or frozen raspberries (12 oz.), raspberry beer (1 cup) and sugar (1/2 cup) that we adapted from Mindy Segal's Cookie Love book. Bring the ingredients to a boil in a medium saucepan, uncovered. Then lower the heat to medium low and let it thicken, stirring occasionally. It'll take about 30-45 minutes.
Of course, for this tart to be Danish, it has to be served with fresh whipped cream. But serve that on the side of the slices, so everyone can admire the beautiful colors of the tart.
This is so good I've looked for excuses to make it. I've brought it to my son's college tailgate party, a night out with friends at an open-air concert, a birthday party, our core advisor group meeting. I've even brought leftovers (this recipe makes a lot!) to the health club. Funny story there – a couple who was 9 days away from getting married was debating whether they should have some. They did and they loved it, just like everyone who tries it.
If you try it, let us know what you think. We'd love to hear from you.